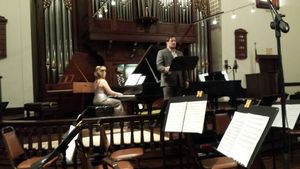 We really enjoyed hosting the a cappella competition a couple of weekends ago.
 Congratulations to all of our young musicians for carrying on this tradition of unaccompanied harmonies.
 It was such a fun time listening to such a wonderful group of musicians. It also reminds me of my musical heritage. Many do not know that the a cappella tradition is found in my Ukrainian roots. The traditional Russian Christian service is a tradition that goes back to the olden times of the year 988 when Prince Vladimere Grand Duke of Kiev (my hometown!) accepted Christianity and adopted a service that had purely vocal sound and no instruments. This music continued in the 18th century when Dmitri Bortniansky and Peter Turchaninov gave the ancient chants harmonies and structure as the first sacred composers of the Imperial Court Capella (yes....that is where the name comes from).
...In the late 19th century Alexander Arkhangelsky founded  mixed choirs and toured Europe and Russia as the first popularized a cappella groups. Interestingly, some of the most famous a cappella classical works are by Peter Tchaikovsky with his 
Liturgy of St John Chrysostom and Great Vespers and Liturgy 
by 
Sergei Rachmaninoff 
 . 
That popularity has continued as evidenced in America today. As a matter of fact, Paul and I have been working on a lecture performance forum featuring Rachmaninoff's sacred works. I look forward to showing others the wonderful musical tradition of my home.
This is a picture of me accompanying Jeff Gwaltney. He is performing one of my sacred compositions The Sower.