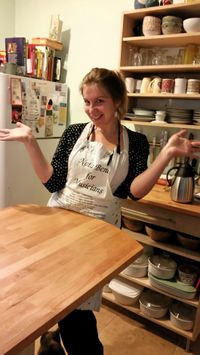 Hi everyone! Paul and I want to wish you all a very Merry Christmas! I thought I would take the time today to tell you about my favorite recipe to cook for the holidays. Of course Paul and I love so many wonderful seasonal foods, but the Borsh soup that my grandmothers on both my father and mother's side taught me to cook is the one that is a favorite in our kitchen here in our home in Troy. I remember when I was a girl walking into their homes and smelling the wonderful Ukrainian flavors on snowy evenings. If you would like to try it, here are my recommendations:
First make some stock.
It can be from beef bones or some nice organic chicken stock. (I myself use beef soup bones in filtered water and cook it overnight).
Then flavor the stock. 
Add some sauteed onions and carrots, a bay leaf, some salt and pepper to taste.
Next add potato.
 Use three or four nicely sized, cubed to your preference, and let this boil slowly.
Then prepare beets and beans.
 You need to cook each of these separately. Take 3 to 4 whole beets, peel them and boil them in water that has a tablespoon of vinegar in the pot until they are tender (Some people prefer to roast the beets in the oven). Soak and cook 1 1/2 cups of white beans with some salted water until they are also tender (You may use black beans also if you prefer).
Finally combine the soup ingredients. 
Cut the beets into french fry like chunks, add the beans, cut a 1/4 head of fresh cabbage, add some roasted garlic cloves tp taste, then take diced or whole canned tomatoes and add it all to the stock and potato pot. 
In the end add the sweet pepper and flavors!
While it is all slowly simmering take some sweet Bulgarian Red Pepper and sautee it in some olive oil, and add to the soup. Finally mix some garlic and salt to taste!
Don't forget the sour cream!
Keep tasting and flavor to suit your self! When it is ready to serve be sure to garnish your delightful bowl of Ukrainian Borsh with some fresh sour cream! Enjoy!
I hope you have time to try this recipe over your holiday break! Happy Holidays and a Happy New Year to you all! Don't forget to check out our website music tracks so you can enjoy our holiday music while you cook!