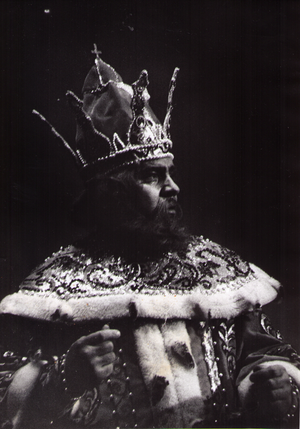 As our new concert season approaches this week we wanted to talk to you about the person who has had a tremendous impact on Sophia's artistry and life; her father Stanislov Stephanovich Pavlenko. The picture on this blog is of him as Sultan in Rimsky Korsakov (the opera that has the music in it that is commonly known as the 'Flight of the Bumblebee') Stanislov was born in a small village in Ukraine, and like all Soviet children of the World War II era he suffered during the war. We are fairly certain that his father was killed in the final assault on Hitler's bunker in Berlin and that his mother (Sophia's grandmother) died soon thereafter of malnutrition and deprivation. Stanislov was subsequently raised in Kiev, Ukraine on the banks of the Dnipro River by his aunt Natasha.
Stanislov was encouraged by the Soviet army to become a singer after being extremely popular as a troop entertainer. He was a successful high tension wire tower builder, but he left that world when he auditioned for (and was accepted by) the Moscow Conservatory. He was admitted at the extremely young age of 25 because of his exceptional baritone voice. He met Sophia's mother Larisa while she was assigned to the National Opera House of Ulan Ude on the far shores of Lake Baikal in Siberia. He was the honored artist and leading bass soloist of that house and he fell in love with Larisa there. Soon thereafter Sophia was born!  Later, Larisa groomed him as his vocal coach to become one of the most renowned Bass Baritones in the history of the Soviet Union.
They moved back to Kiev when Sophia was one year of age because Stanislov was chosen to run the No. 2 Opera House that was new. He was among the first wave of artists hired there. Larisa would later become the vocal coach for the National Opera.
Over the years his career took him all over the Soviet Union. He was however an outspoken advocate for Ukrainian independence. He refused to join or support the Communist party and his career was affected by that political stance. Public media and publicity exposure was censored and he was therefore never allowed to leave the Soviet Union as a result. 
Sophia's memories: 
" I remember my father's long conversations about art, philosophy, and music. He basically exposed me to culture and shaped my vision. I do remember seeing him sing on stage, but it is his conversations that I cherish the most. He was so well versed, and he had a keen sense of humor! He left me so much for my life, but he also gave me life lessons to which I always adhere. "Strive for excellence. Behave yourself with dignity. Always perfect yourself. Have a sense of honor. Never ever forget to represent the great country of Ukraine with honor. Believe in yourself." My father proved by example that all is possible with discipline and dedication. Most of all my father adored high art. He felt that it was the pinnacle of the human experience. My father's influence on others reflected these thoughts. The legacy of his voice, the way he performed on stage,the artistic force of his artistry all combined to make him revered. But he was also considered to be a true friend's friend. He was intensely loyal and would do anything to help his comrades. People valued his reliability. He was the one there for them during times of trial.
Special note from Paul:
Stanislov died in 1996. I have actually seem people stop Sophia on the streets of Kiev to get her autograph because she was his daughter. That should give you an idea of how truly revered his memory is is. Sophia has also been invited to stay with Ukrainian and Russian fans, colleagues, and friends throughout the world over the years...just because she is his daughter. This says a lot about his legacy as an artist and a man.